It is my 3rd month of wearing Fitbit Flex 2, an activity tracker, after some 6 months of hesitation (of whether to buy or not, remembering the price is not so cheap) and regret (for not having the time to look for it when I was in Singapore). Since I joined my current employer, I drive to work, meaning the amount of walking has significantly decreased. With that concern, and the self consciousness that I had gained weight, I decided that I need to monitor my daily activities. I don't want to replace my beloved watches, so the smarter tracker with screens are out of options.
So far, I have to say that this Flex 2 is the tracker I'm looking for.
Pros:
Cheap (compared to other Fitbits, still more expensive than Xiaomi Mi-band 2, which, by the way, I cancelled buying because it doesn't sync with iOS). I bought it online for SGD 160 in Indonesia (unfortunately they only sell certain, more popular Fitbits in stores), where in Singapore you can get for SGD 108 or USD 60 in US.
Simple and small, just like regular bracelets. Unlike other bulkier trackers, this one is really like bracelets and comes with 4 color options (black, navy, lavender and magenta).
Waterproof. Yes, I don't swim, but yes, I tend to wet my wrists during my daily activities. Or even worse, forget to take the tracker off and take it to the shower after workout.
Reminder to move. This is the most useful feature (which I tend to ignore after 2 weeks of using, but still it's useful). You can adjust the reminders according to your needs. For example, I have the reminder every hour during working hours. And it will vibrate every hour (for you who are too lazy to read the manuals, when it vibrates to remind you to move, the LED will turn magenta with 2 white LEDs on).
Long battery life. As advertised, the battery can last up to 5 days with normal use. I tried synchronizing Flex 2 with my phone for calls and text messages alert (yes, this includes WhatsApp messages alert), and the battery only lasted 3.5 days.
Bangles and pendants available for purchase, making it fancier to wear.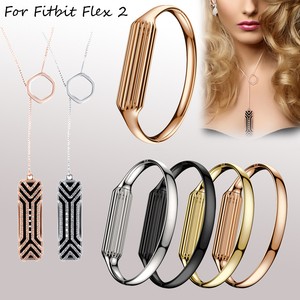 Cons:
No Heart Rate sensor. The ones with HR sensor are approximately $100 more expensive, so I thought, why would I need one? But then today I feel like I need it during exercise.
Only recognizes walking and running, despite the claim that it can auto-recognize 4 types of workout (walking/running, swimming, aerobic, yoga).
All in all, I'm satisfied with this tracker, because it's definitely what I need. I can set my own goals and get alerted when I reach my daily goals. I don't, however, input my calorie intakes anymore after 3 weeks. Too lazy to do that. LOL. It will be a great help if the app can automatically calculate the calories after I upload a picture (of food).